Megan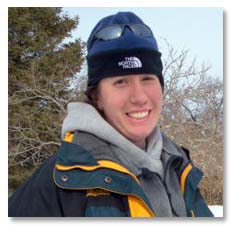 Name: Megan
Region: Colorado
Language(s) Spoken: English
Citizenship('s): United States
Nationality: American (US)
About Me:
I am a humble post, post college graduate who is currently still searching for my niche in the world. After two years of wanderings in the environmental field, I chose to join AmeriCorps in hopes that the experience would provide me with both an opportunity to "give back" and to see the world from a new perspective.
In general, I don't consider myself a "cause" type of person. That is, I don't usually get passionate about a particular piece of legislation or political issue or "injustice". But, I've come to believe in my short 25 years of life that our planet is a thing of beauty worth preserving. And sometimes the best, or perhaps the ONLY, way to preserve our Earth is bring about change in society by taking a stand at the personal level. The stand I take cannot be within my conscience only, but rather I must put my thoughts into action.
In my year with AmeriCorps, I have been fortunate enough to be able to put my thoughts into action through environmental volunteer service. I've also observed here a concrete example of how, with the support of progressive local governments and private organizations, passionate community members can unite and empower themselves to preserve the beauty around them.
Every important movement in history had a definitive beginning and a catalyst that accelerated change. It is we bold individuals who dare to make a statement who will help form the beginnings of an important movement and our actions will be the catalysts for monumental change.