The All Essex Greenpeace Stop Esso Blitz
by Keith

A few years ago, while working as an active supporter in the Essex Network of Greenpeace UK I had an idea. The StopEsso (known as Stop ExxonMobil in the USA) campaign was working well, but we needed to do something big. There were 45 Esso filling stations in Essex, what if we could go to them all – in one day. Maybe get in a couple of local newspapers or even on the radio!?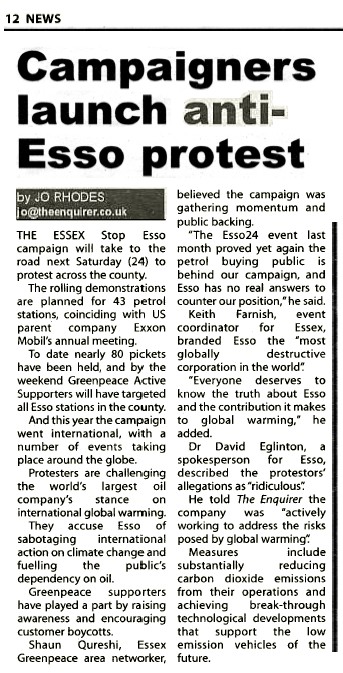 After a couple of months of organisation we were ready to go. This is my story of how the day unfolded…

07:00 : Full of nerves with customised speech bubbles and a map of Essex in the back of the car (yes we had to drive), I'm filling up at a Shell garage. I know Shell have done terrible things in Nigeria, but they have at least recognised that Global Warming is caused by our overuse of oil, and they also have a large renewable energy operation which is growing.
And that's the point; we don't hate the people who work in Esso garages, and we don't support any other organisation (oil companies, car manufacturers, road builders) that contributes to Global Warming, but Esso is the champion of the greedy, the ruthless, and the good old polluter. If we can convince Esso, and therefore Exxon,that they need to change their attitude, then we will leave them alone - simple.
So, I'm listening to BBC Essex, and what comes up on the 07:00 news (and a few times after), but an item telling listeners what I'm about to help out with. No criticism, just plain facts - "attempting to demonstrate at all 45 Esso garages in Essex..." - what a buzz!
08:00 : Southchurch Road Garage, and the team are here, holding up banners all over the place, giving out leaflets, and talking to the public.
Most of us, including a few non-Greenpeace people, are in it for the whole day. 12 garages in 10 hours is a huge task for the Southend Team, but there are 3 other teams doing the same. The feeling of solidarity is with us throughout the day, and everyone is doing it because they really believe in making a difference. Oh, and it's a great day out.
10:30 : This is our 4th garage of the day, Progress Service Station, Eastwood.
A man in a white car gives me a leaflet on Esso's "Responsible Driving" Policy. He tells me that the woman in the garage asked him to give it to me. I say I've already read it, but pass it around the group to make everyone laugh!
13:00 : Garage number 7.
We are assembled along the A127, at the end of an impressive arc of red signs stretching 50 metres down the road. Never mind that mine says "Boycott Esso 30m", it's the thought that counts. Hundreds of vehicles pass, dozens beep horns. The garage is virtually empty.
14:30 : Another garage on the A127.
A lady from The Evening Echo is taking a photo of us, which appears in the paper 3 days later (with another one attached to a letter from an Esso representative 3 days after that - more publicity, Esso are hurting). The police turn up, as they do a few times that day, ask what we're doing, and go away. It must be worrying for the staff seeing an empty forecourt, and half a dozen protesters getting all the attention.
17:00 : Nearly done.
Queues of traffic and lots of "What are you doing"'s. At last I have got my answer down to one line - "Esso don't want people to know about Global Warming, they just want to make a profit. We're trying to change their mind." Feeling a real high about this - there's definitely something in the air tonight.
18:15: Last one, Rainsford Road, Chelmsford.
Dusk is approaching, and the road is lined with 15 protesters from all over Essex. The 4 teams have met up after doing a tough day's work, ready for a good drink, but soaking up the horns, shouts, waves, and occasional insults (it all adds to the fun!) from a busy road.
Even the people buying Esso fuel are asking us questions! We're all tired out, having made a little bit of history for Essex Greenpeace. Esso must be wondering what will happen next. Any ideas...?